NEW PRODUCT LINE UPDATE
We are proud to announce the addition of

to the CHC family of top performing products.
We are excited to announce our new partnership with SMARDT, a revolutionary line of world-proven oil-free chillers.
The addition of the SMARDT line will provide a new energy saving offering from CHC for newly designed construction, retrofit projects and commercial buildings looking to reduce operating costs, electricity consumption and improve on energy efficiency.  
---
THE PROOF IS IN THE PROJECT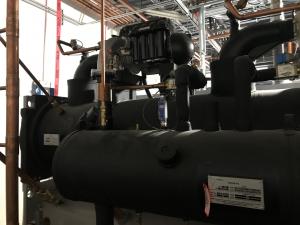 Palo Alto, CA
Client:

​​​​Alexandria Real Estate (ARE)
Why SMARDT?:

Efficiency of product for application
Industry: 

 

TI Upgrade for future office space and R&D facility
SMARDT Product(s):

(2)Water Cooled Chiller Model WB095.2A2BN
 Learn More about SMARDT projects by clicking HERE.
---
This new partnership between CHC and SMARDT brings the widest range of oil-free centrifugal chillers to our product offerings. Our customers will benefit from game changing energy efficiency, as all SMARDT chillers, whether water cooled or air cooled, adiabatic, modular, split or condenser-less, are designed to use oil-free magnetic bearings and variable speed drives to deliver better IPLV efficiencies than conventional oil-lubricated centrifugal, reciprocating, scroll and screw compressors.
SMARDT Chillers offer:
Oil free magnetic bearing centrifugal compressors

Best part load efficiency

Eliminate oil degradation of heat exchanger surfaces

Eliminate oil related maintenance

Lowest Total Cost of Ownership

Reduced maintenance costs

Reduced operational costs

Lowest chiller sound levels

True soft start (< 2 amps)

Ultra-fast chiller restarts after power failure
---
CHC represents SMARDT in the highlighted areas featured below.
---
Consider SMARDT for your next project.
Click below to learn more.
Share this article